Are you looking for WordPress multilingual plugins?

WordPress has been translated and used in multiple languages across the world. You can create your WordPress website in a particular language or multiple languages.

There is no built-in functionality in WordPress for creating multilingual websites. But, there are some plugins that help you achieve multilingual websites.
In this article, we will list some of the popular WordPress translation plugins.
Best WordPress multilingual plugins and automated translation plugins.
In WordPress translation plugins are characterized by two categories:
WordPress Multilingual Plugin.
Automated WordPress Translation Plugin.
WordPress Multilingual Plugins allow you to manually add multilingual content to your websites. The main benefit of using these plugins is that the quality of translation is far better than the automated one.
Another type of plugin uses translation services that translate your content into different languages making it easy for you to skip manual translation. The quality of translation is not as good as manual translations.
WPML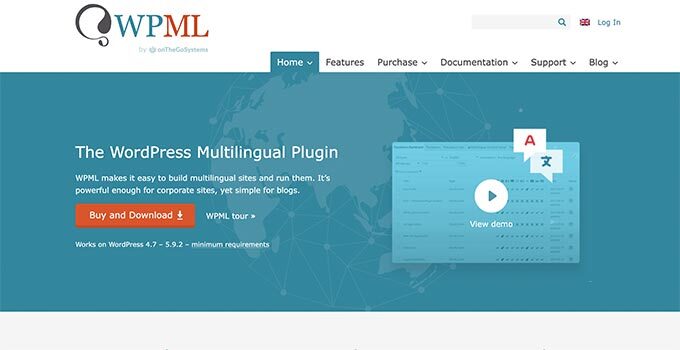 WPML is one of the most popular WordPress translation plugins. It comes with a powerful translation management system. You can easily translate content, themes and plugins, and much more.
It has an easy-to-use interface. You can add translations and manage multilingual content on your website. Using WPML you can translate all post types, taxonomies, custom fields, and strings generated by your WordPress theme and plugins.
It also allows you to connect your website to third-party translation service providers. You can select which content needs to be translated and get it submitted directly to your website.
Features of WPML:
One WordPress Installation – Multiple Languages
Quality Automatic Translations (Using Google, Deepl & Microsoft)
Translation Workflow Control
Professional Human Translation
Multilingual & Multi-Currency E-Commerce
Works with Almost Any WordPress Theme and Plugin.
Polylang
Polylang is another popular WordPress translation plugin. It helps you to create your multilingual website. There is no limit to the number of languages you want to add to your site.
It has a simple interface that allows you to translate post types, custom post types, widgets, and many more of your website
Polylang doesn't support plugins and theme translation. The plugin doesn't include e-commerce support. For that, you have to buy the paid addon.
Features of Polylang:
Translating posts, pages, media, categories, post tags, custom post types and taxonomies, and RSS feeds; RTL scripts are supported.
The language is either set by the language code in the URL, or you can use a different sub-domain or domain per language.
Automatic copy of categories, post tags, and other metas when creating a new post or page translation.
Translating menus and widgets.
Customizable language switcher available as a widget or a navigation menu item.
Compatibility with Yoast SEO
Translate Multilingual sites – TranslatePress

TranslatePress is a full-fledged WordPress multilingual plugin that translates every aspect of your Website.
The best thing about this plugin is that it allows you to translate your content on the front end. You can easily switch the language during translation and it will change the live preview.
TranslatePress is perfect for manual translations. You can translate yourself or assign the custom translator role to any user on your site. These users can translate content without access to the admin area.
Features of TranslatePress:
Translate all your website content directly from the front-end, in a friendly user interface (translations are displayed in real-time).
Fully compatible with all themes and plugins.
Live preview of your translated pages, as you edit them.
Translate only certain paths and exclude content from being translated
Translation Block feature in which you can translate multiple Html elements together
Native Gutenberg support, so you can easily translate Gutenberg blocks
Out of the box WooCommerce compatibility
If manual translation sounds too hard for you then you can use Automatic Translate addon for TranslatePress.
Automatic Translate addon for TranslatePress.

This addon is the best addon for translatepress that helps you to translate everything with translation service providers such as Yandex, Google, and Deepl.
It saves your time and money, Automatic Translate Addon For TranslatePress helps you to translate entire page content with one click. You don't need to translate page content manually one by one.
After selecting the language you just have to click on the Auto Translate button and the process will start within a few minutes, you can translate your website completely.
Features of Automatic Translate Addon For TranslatePress:
One-click Translate
Unlimited Translations
No API's Required
Allows manual editing after automatic translations
Loco Translate

Loco Translate is a little different from other translation plugins. This plugin helps you to translate plugins and themes.
Loco Translate provides in-browser editing of WordPress translation files and integration with automatic translation services.
It also provides Gettext/localization tools for developers, such as extracting strings and generating templates.
Features of Loco Translate:
Built-in translation editor within WordPress admin
Integration with translation APIs including DeepL, Google, Microsoft, and Lecto AI
Create and update language files directly in your theme or plugin
Extraction of translatable strings from your source code
Native MO file compilation without the need for Gettext on your system
Support for PO features including comments, references, and plural forms
Built-in WordPress locale codes
This plugin provides you integration with translation API's but you have to purchase the API's keys for that.

If manual translation & integration with API's sounds too hard for you then the best solution for you is to use the Automatic Translate addon for Loco Translate.
Automatic Translate addon for Loco Translate

This plugin helps you to translate your plugins or themes automatically. It allows unlimited translations with no API's required.
This addon is the best addon for Loco Translate, which helps you to translate everything with translation service providers such as Yandex, Google, and Deepl.
Once you install this plugin within a few clicks you will be able to translate any plugin or theme of your website.
Features of Automatic Translate addon for Loco Translate
One-click Translate
Unlimited Translations
No API's Required
Allows manual editing after automatic translations
All of these multilingual plugins will help you translate your website with multiple languages. You can choose the one that fulfill all your needs